I

DESIGN TIPS AND IDEAS FOR SCREEN DOOR INSTALLATIONS

Home design considerations are important, and when selecting PCA screen doors, the design options are plentiful. The following blog covers a few examples of what we consider good design in the screen door space. Take a look at a few examples of screen door installations we think are well designed and our explanations of why we think they represent good design.

This blog includes design ideas for:

a.) In-Swing Screen Doors
b.) Screened-In Porches
c.) Front Entry Enclosures

I

IN-SWING SCREEN DOORS
WHY IN-SWING
In-swing screen doors are a great choice when the exit of the home or porch is over stairs.
WHY WE LIKE THE DESIGN SHOWN HERE
This image features one of our most popular doors, Canoe Creek, the A-100. Notice that the porch screened walls are open from floor to ceiling. This door style is a nice compliment to the porch for several reasons. Canoe Creek is mainly an open screen door design that features a center bar. The center bar provides a nice accent while adding additional support to the door. Additionally, the 8" kick plate on the bottom of the door adds nice design balance.
PCA screen doors kick plate options include: no kick plate, 8", 12", 14" or 24". Click here to review details of kick plate options.

Other opportunities for installing in-swing screen doors are shown below. When steps are involved, for safety and convenience, considering in-swing screen doors is a good option.
I

DOOR DESIGNS FOR SCREENED-IN PORCHES

Screened in porches can include front and back porches and lanai's found primarily in the south. Here are several design considerations when choosing screen doors for a screened-in porch or lanai:

CONSIDER FRENCH DOORS

Porch furniture can be large and unwieldy. Creating a porch or Lanai with a French door or double door opening will pay back in dividends, especially if you plan to move furniture in and out.

If you have the space, we recommend french doors for convenience and added beauty. See french door ideas here.

CROSS BARS AND DECORATIVE PICKETS

When selecting a door style and specifying custom aspects like cross bars, pickets, and other customizing decorative treatments, consider how the porch is (or will be) designed.

a.) If the porch has cross members in the structure, we like to see the cross bars on the screen door line up with the cross bars on the porch.

b.) Add screen doors with decorative features to enhance a simple porch design.

c.) Color! There are 6 powder coat colors to choose from in the PCA screen door line and now we offer anodized aluminum to match anodized porch structures. See our full line up of powder coated finishes here.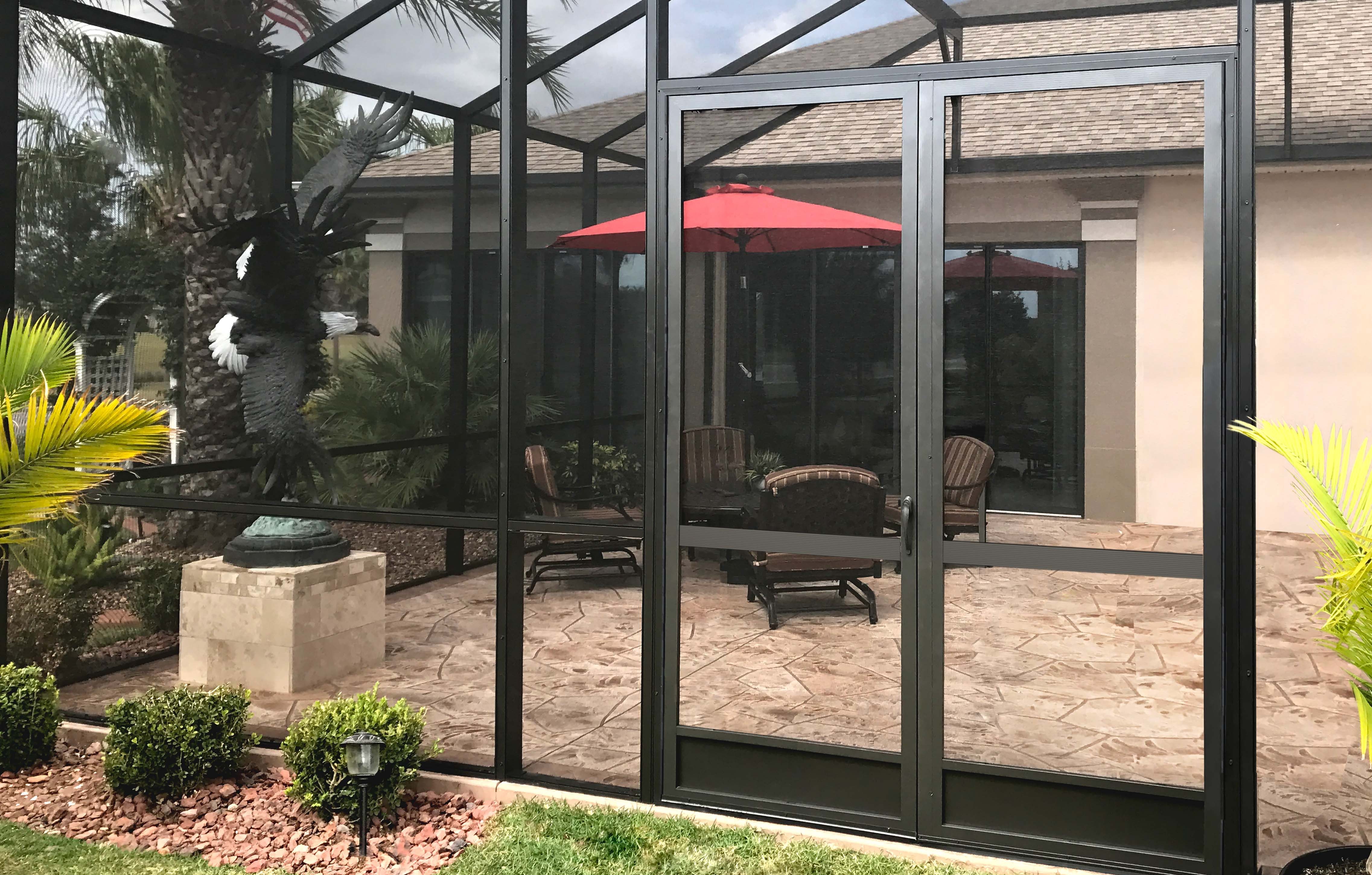 I

FRONT ENTRY ENCLOSURES

A beautiful home deserves an equally beautiful front entry. There are many ways to design a beautiful front entry. One of the easiest is to visit our visualizer and explore ideas for screen doors, side lights and sunbursts.

When designing your front entry enclosure, you will want to keep in mind the style of your home and consider the roof lines, shapes of windows and doors, etc.
Front entry enclosures are a great way to add curb appeal to a home. There are three areas to apply design in every front entry enclosure:
1.) The entry door (or doors if adding French doors)
2.) The sidelights (areas on either side of the door)
3.) The sunburst (transom area above the door and sidelights)
Here are some images that illustrate different design ideas for these three areas.
For more ideas visit our front entry enclosure gallery page.
Visit this page to see the brochure on designing front entry enclosures. Or go directly to our visualizer and design your front entry here.