I

What Sidelights are and Why You Want to Consider Adding Them to Your Front Entry Enclosure
What Are Sidelights?
Sidelights are decorative aluminum inserts that affix to the screen(s) on one or both sides of a screen door on a front entry enclosure.
Consider Adding Sidelights To Your Front Entry Enclosure
Every home has a style. Adding a front entry enclosure is a great opportunity for you to add a customized look to the front of your home. Extend that style into the entry, add curb appeal and even additional security with sidelights.
The Benefits of Sidelights
They serve several purposes:
They carry the look of a home's architecture to the front entry enclosure
They fill the openings on either side of the screen door
They add curb appeal
They add security (additional strength and durability) — they are made of the same strong .065 aluminum as PCA screen doors
They allow you to fully customize your front entry enclosure — six series of designs, corner scrolls and finials provide many decor options
How To Select Your Sidelights
You now are at the point when you want to design your front entry enclosure. Keep in mind the architectural style of your home when making selections. You will begin designing your front entry enclosure by selecting your screen door. Once this is selected, move on to selecting the sidelights for either side (or one side) of your door, followed by selecting your sunburst which is in the screened area above your door.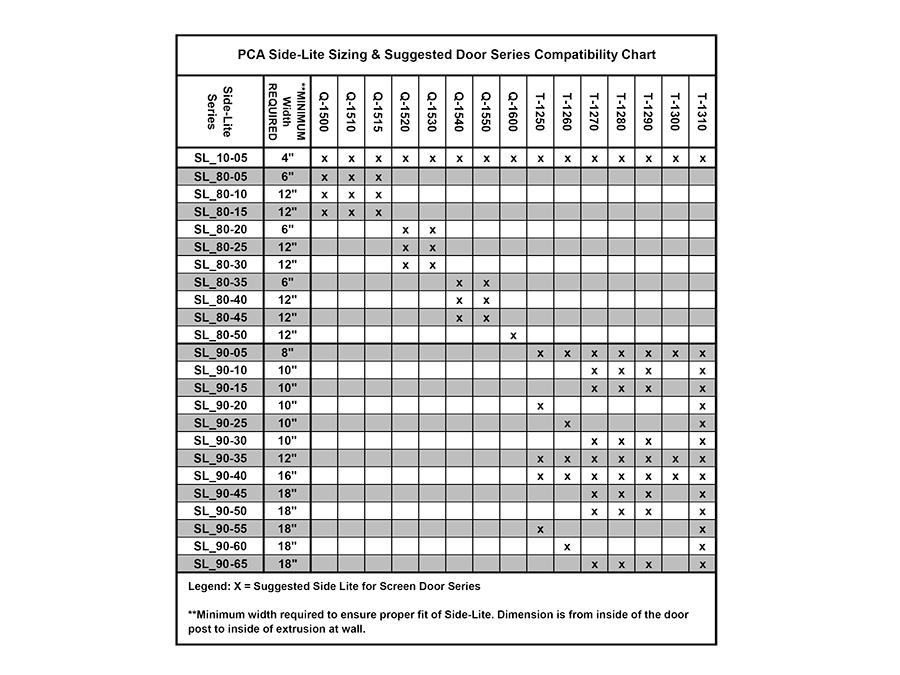 We have six primary sidelights design styles (shown in the gallery of images to the left), and within each are style variations (series). You can scroll the gallery to see the various series and individual options. The design visualizer is a great way to make your selections.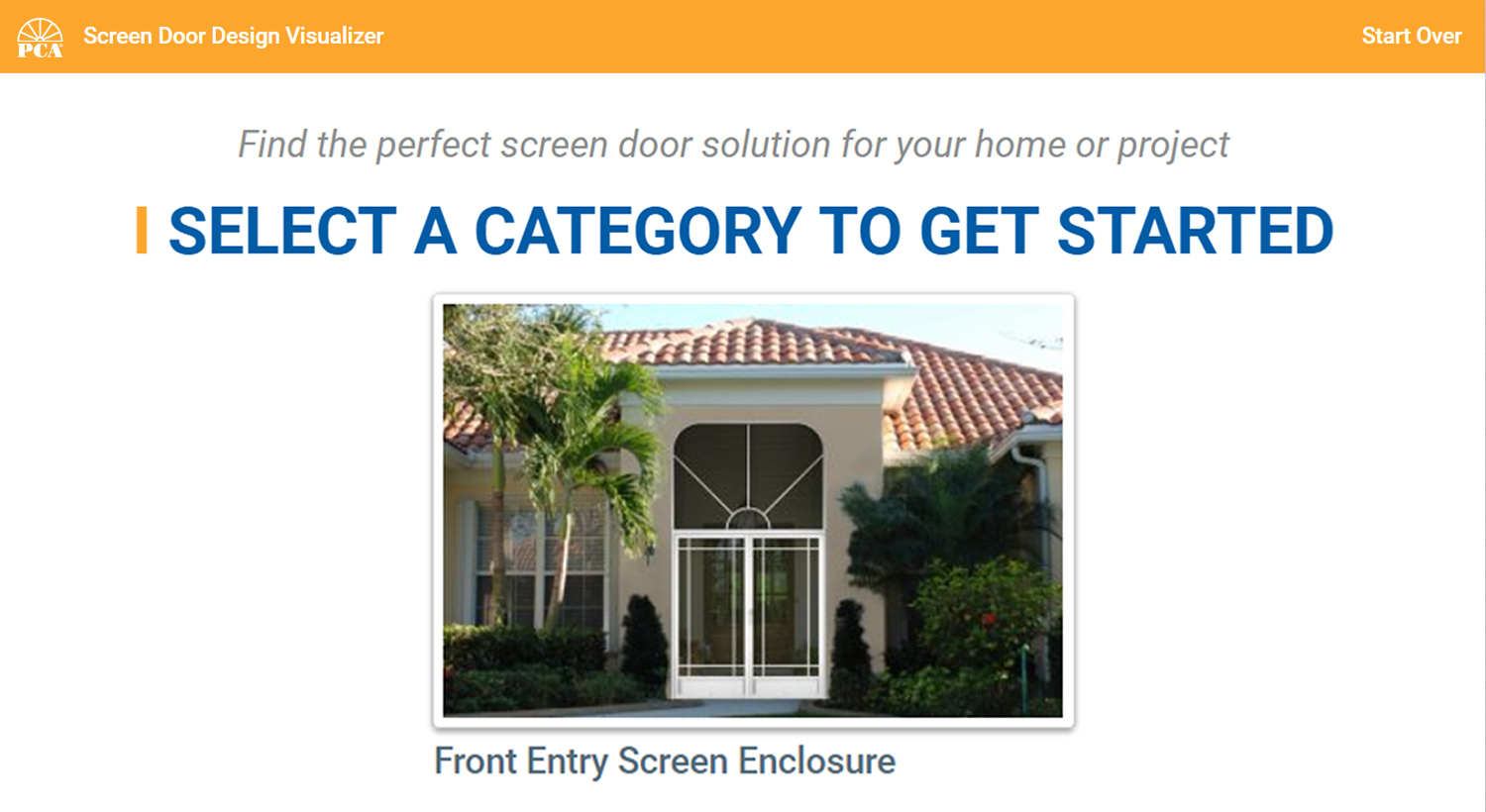 Consider The Details
Get creative! Add ornamental accessories to your sidelights to continue the style of your screen door throughout the entire screen enclosure. Corner Scrolls, Die Cast Scrolls, and Finials provide a wide variety styles.
Feel Good About Your Selection
When you buy a PCA screen door, you are purchasing the most durable, aluminum screen door on the market. PCA Products is proud to stand behind everything we manufacture with a standard door Lifetime Warranty against manufacturing defects. You can feel confident in the sidelight and sunburst inserts. They are made of the same .065 aluminum and made with our exclusive Thru-Lock system for extra strength and durability. This means sidelights won't sag or twist.
Please Note: Due to the various enclosure sizes and shapes, please consult with your authorized PCA dealer to determine which Sunburst products are necessary to install the series that best completes your opening. Some helpful charts include: Sidelight Sizing Chart & Suggested Door Series Compatibility and How To Measure For A PCA Front Entry Enclosure.
Need other front entry design ideas and inspiration?
Check out our Sunburst page and browse our Front Entry Enclosure Gallery for ideas for single and double door screened enclosures.