I

Screen Door Design Ideas to Enhance your Home's Entrance and Keep Fresh Air Flowing

The front and back doors on today's homes come in many shapes and colors, and one of the hottest trends is dark doors. Rich browns, dark grays, and cobalt blues are showing up on traditional homes, modern houses, and even on cozy cottages and bungalows. Whether you live on the East Coast, West Coast, or somewhere in between, you've probably seen this trend taking over your neighborhood.

That's why black screen doors have become so popular. When homeowners are ready to open their doors wide, black screen doors allow them to do it in style.

Black screen doors may be the answer you're looking for to add curb appeal and to keep the bugs out while allowing fresh air into your home.
I

How Popular are Black Doors?

Black doors are showing up in home magazines (see examples on pintrest), on Houzz, and on your favorite home shows. Maybe that's why so many people look for them when buying a new home. In fact, according to online real estate database ZILLOW, after examining over 135,000 photos from listings across the United States since 2010, houses with black or charcoal gray doors sold for as much as $6,271 more than expected. And, it appears to be a trend that isn't going away anytime soon.

Black doors are known to reflect a home that is serious, stately, and timeless, but they are also a part of a fresh and modern design. The addition of a black screen door can be the perfect choice for your home, and can serve two functions: complimenting the black front door and allowing fresh air into your home.
I

What Kind of Screen Doors Work Best with Black Doors?

PCA Products has always been in the forefront of home styles and fashions. That's why many of our durable, attractive screen doors are good choices for the trend to go dark on doors. Whether you're a traditionalist or a modern homeowner, we've developed styles and colors that work with dark doors.

If you want a sleek but simple look, take a look at the PCA products all-black aluminum screen doors. These sturdy additions add drama and style without fighting against the look of a dark exterior door.
For a more low-key approach, try our white screen doors with black pickets -- a screen door style we call "Tuxedo." This combination of black and white has a relaxed country feel and has become a popular trend on porch and deck railings.
I

Try Our Virtual Design Tool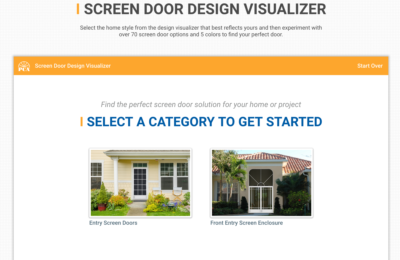 Black aluminum screen doors are popular on front entries, porches, and screened enclosures as well. At PCAProducts.com, check our visualizer to try various styles in multiple colors and design the perfect look for your front or porch door or screened enclosure.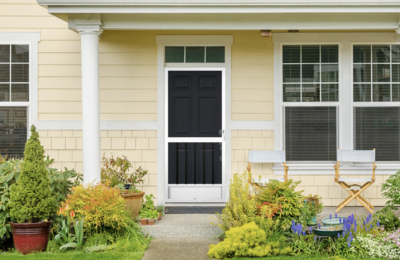 I

Quality is Critical
Quality is critical if you want your screen door to last. We recommend you look for aluminum and compare -- there are differences. For instance, PCA manufacturers custom aluminum screen doors that have several quality differences that you should be aware of. The sturdiness of the screen door comes from several areas:
The frame made of heavy-duty, powder coated aluminum
The corner keys which give the door added strength so it won't rot, rust, twist, or bend
The self-locking screen system which actually gets tighter when you push on it (assuring that there is no screen blow out)
I

Long-Lasting Finishes
Finish is extremely important. Be sure you have selected a high-quality aluminum screen door that will stand up to the elements. PCA Products features long-lasting, powder-coated finish on all parts. Powder coat finish offers four times the protection of baked-on enamel paint. Learn more here.
I

French Screen Doors

French Screen doors are also a popular option. Be sure to purchase ones with no center stile. Maneuvering furniture in and out of a patio that has a center stile between the double screen doors can be a challenge. PCA Products french style screen doors eliminate this with their astragal system, making it easier to move furniture in and out. See more ideas for inspiration here.
I

Want More Black Door Ideas?

The black door trend translates nicely into the interior of the home as well. Here is an article that beautifully demonstrates how you can bring this trend inside.