I

Create A French Screen Door From Two Standard Screen Doors
Creating a french or double screen door opening is easier than people might think, and with PCA's astragal kit there is no center stile. It creates a wonderfully wide, unobstructed and elegant entrance to any porch or patio. And with over 70 door styles to choose from, will add beauty to french door front entries. It's also wonderfully simple requiring only the addition of (1) astragal kit to (2) standard screen doors.
I

The popularity of French Doors
French doors (also referred to as double doors) were first used during the French Renaissance time period, and became widely popular in the United States during the height of the bungalow era - the turn of the 20th century, when builder supply houses started to offer in-stock doors.
The popularity of the French door continues today, as the main purpose of the door style is two fold: allow natural light indoors, and connect two spaces together. Connecting the indoors with the outdoors is an ever popular concept. The first known use of French doors for this purpose was in the Hall of Mirrors at Versailles by King Louis XIV.
I

Creating Your French Doors
With PCA Products aluminum screen doors, you can create French doors from any one of the door designs that fits your home's design and your lifestyle. First, browse our collections of doors to determine the design that speaks to you.
You will need two doors and an astragal kit.
Be sure to check the size of your opening and the sizes of the doors you are ordering:

(2) 36 x 80 doors require a 72" x 80" opening
(2) 32 x 80 doors require a 64" x 80 opening
There is room for error, however, as the PCA screen door kits are adjustable -- the opening can be up to 1" larger in width if needed. 72" can go up to 73" and 64" can go to 65". And you'll be excited to know that these french screen doors can be configured to be in-swing or out-swing.
When using (2) standard single doors to create a French door a few items will not be required in the installation process, they are:
(2) 38" z bar headers
(2) 82" z bar leg
(1) EZ pull handle & closure kit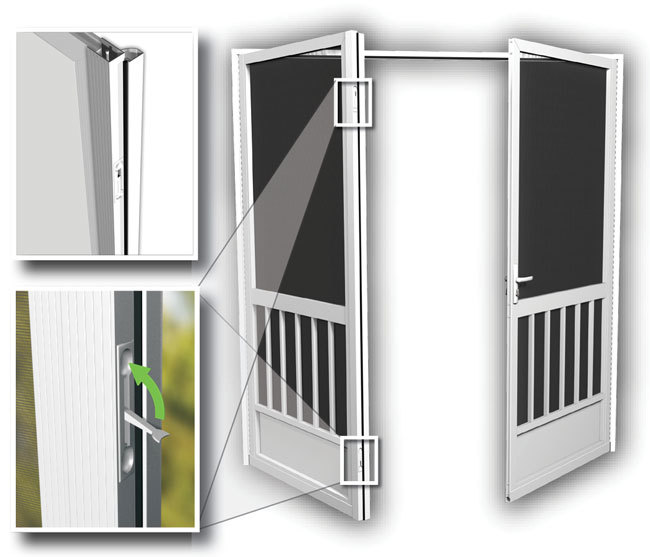 The PCA astragal kit is a wonderful addition because there is no center post to obstruct the view or the space. There are also (2) flush bolts top and bottom to lock or unlock the doors.

I

Design Your Own French Door Opening

PCA's visualizer allows you to select a double door entry image and plug in different styles and colors of doors. Check it out here.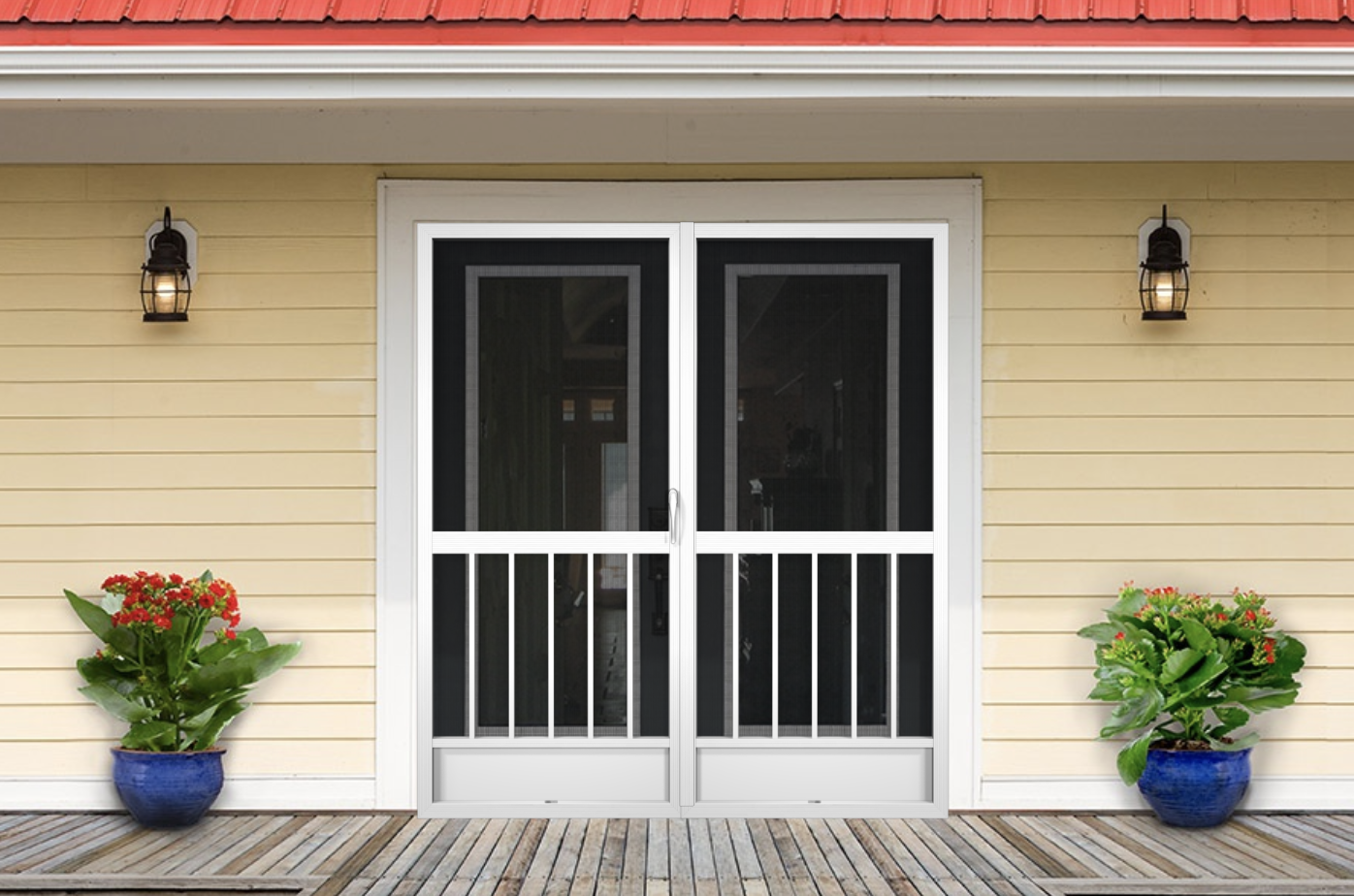 I

Installing Your Double French Screen Doors

All the instructions for installing double screen doors and the astragal can be found here. Installation Instructions.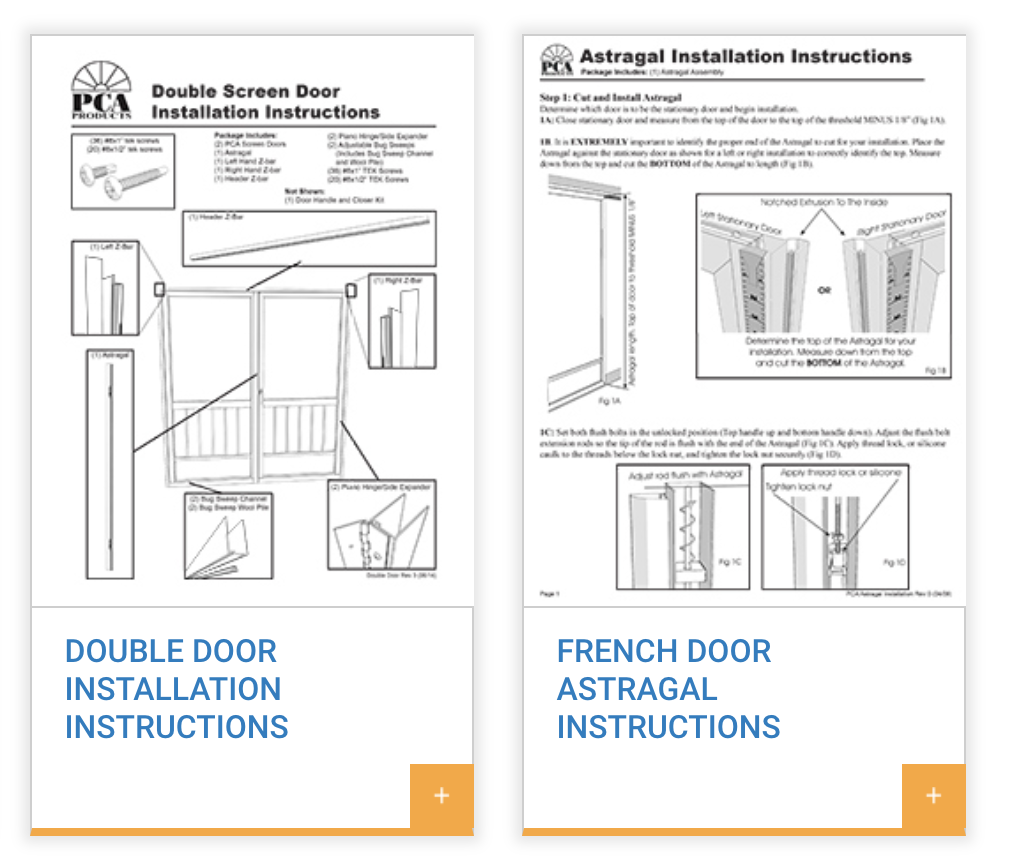 To measure your opening, please use these instructions below. Your width will of course be wider than what is shown in the illustration to reflect the wider opening of your french doors. You can download a copy of the instructions here.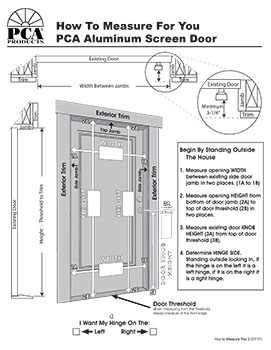 I

Enjoy Your French Doors

Once your french doors are installed, you will have many years of enjoyment connecting your indoor with your outdoor environments. And remember proper maintenance will ensure years of trouble free operation. For your convenience see our maintenance tips here.