Choose from 3 sizes of pet doors and 2 color options
PCA has the most durable screen door solution on the market today and they are tough enough to handle kids and pets. Our screens withstand up to 550 lbs of pressure and the frames up to 770 lbs of pressure. And, PCA hand-crafted aluminum screen doors provide the added convenience of pet doors. The precision manufacturing exactness PCA is known for isn't lost on the pet door accessories. Our pet doors feature a hard plastic door with locks at the bottom to secure the doors when needed. There are no extra panels that have to be stored until it is time to lock the door. They also feature powerful magnetic flap closures and come in 2 colors -- white and bronze. Bronze is a particularly good color choice for heavy use environments like kennels.

Enjoy the convenience of a PCA screen door for dogs or screen door for cats.
PCA installed pet doors come in 3 sizes to accommodate small, medium and large pets.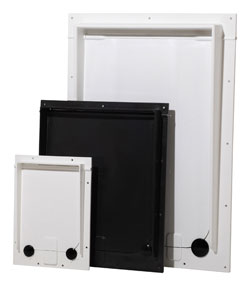 Size and dimensions for PCA pet screen doors:
*Styles and colors may vary.