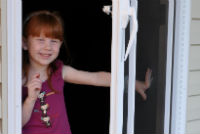 Whether you're dealing with high coastal winds or overly exuberant kids and pets, durability is a top concern when searching for a screen door. A durable screen door means less time and money wasted on expensive call-backs - and less aggravation for homeowners.
Here's what to look for to prevent one screen door repair after another.
Put That Screen on Lockdown
Put an end to blown-out screens with a self-locking screen system that uses a flat spline. Round splines don't hold the screen as securely as flat, meaning you're just a push or heavy gust of wind away from the screen popping loose.
A Dog and Cat Proof Screen Door?
How many times have you had to repair a screen that was destroyed by a set of cat claws? Probably more times than you care to remember. Having to get a brand new screen door repaired because Fluffy got her claws stuck has to be one of the top frustrations for homeowners too. A pet screen is durable enough to withstand those heinous hooks - and heavy dogs too.
Tough Mesh for High Winds
If you live in a harsh coastal area, you know the damage that hurricane force winds and salt air can do to a screen. Your best option is a screen door line where even the standard screens are extra tough. Look for an 18/14 fiberglass mesh - or maybe even a super screen.
BONUS TIP: Trade Rickety for Rock Solid
Heavy traffic areas mean lots of wear and tear on a screen door frame, too. All that banging does quite a number on traditional doors. Sturdy screen doors have heavy aluminum frames that won't twist, splinter or warp. Say goodbye to rotting and rusting too.
Ready for a Durable Screen Door?
At PCA Products, it's our policy to listen closely to what both installers and homeowners need out of their screen doors. Over the years, we've learned that screen durability is just as important as design, and we've incorporated that feedback into our products.
See for yourself how you can either offer a screen door that eliminates call-backs, or buy one to enjoy for your own home.