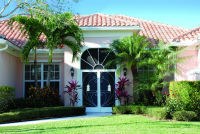 If you love the sounds and smells of nature, aluminum screen doors are the ideal way to invite clean fresh air and sunshine into your home, without the nuisance of bugs. But many customers are concerned that the traditional screen door won't match their home's architectural style. Thankfully, screen doors have come a long way since your grandma's rickety door.
Here's how to select the perfect aluminum screen door to complement your home's unique style:
Open the Door to Your Unique Style
Investing in the architectural integrity of your home will add beauty and value to your property. Get creative with our online tool and build your own creative entrance.