Maui Screen Doors - Handcrafted Aluminum Screen Doors designed for years of trouble free operation in extreme environments!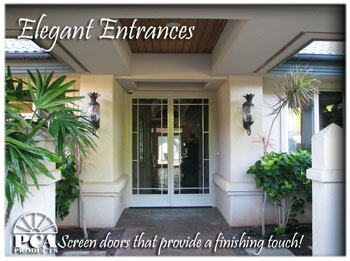 Living in the Hawaiian Islands is a dream-come true, the climate is beautiful and the trade winds bring a year round breeze for you to enjoy. Having Screen Doors installed on your homes entrances, front and back, allow you to let those trade winds in while keeping the pests out.
Additional maintenance issues come with the beautiful breezes that the Hawaiian Islands are known for. The corrosive effects of the salt air can quickly take their toll any products exposed to the elements. And it is not uncommon to see the screen mesh separate from the door frame because of the higher winds so prevalent in the islands.
The Right Screen Door Will Add Curb Appeal in Maui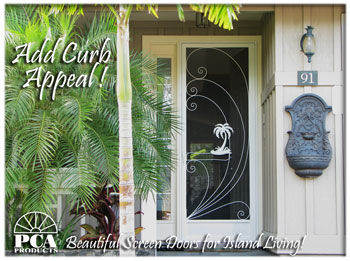 Most people don't put much thought into purchasing a screen door, but durability is a major concern when it comes to home maintenance in an island environment.
Have you experienced the aggravation that comes from a rusting steel screen door, or the bent and twisted frames of flimsy vinyl screen doors?
Have you been searching for a screen door that is sturdy enough to hold up to your unique climate in the Hawaiian Islands?
Are you tired of replacing your screen door every year due to structural failure, screen blow out or rust issues?
How to Choose the Best Screen Door for your Front Door or Screen Patio in Maui.
Screen doors can be manufactured with a variety of materials such as steel, vinyl, and aluminum just to a name a few. Which is best suited for your home and lifestyle?
.
Steel screen doors – strong but they require ongoing maintenance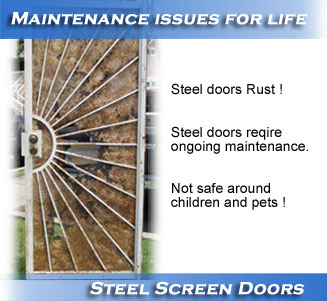 The reason many people purchase steel doors is for their structural stability which can be hard to find in other screen doors. The simple fact is steel rusts but they can still be found all over the islands.
The frame of these screen doors will hold up to the strong trade winds the Hawaiian Islands are known for but within a few months a the frame and screen will rust from the constant salt air that comes along with those winds.
The buildup of rust can quickly become a safety hazard to your kids and pets.
Inexpensive aluminum screen doors can be misleading at best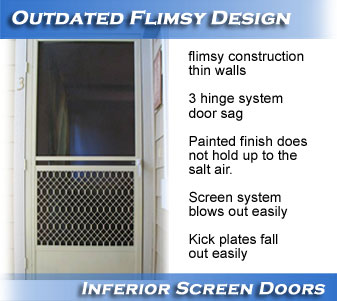 Aluminum screen doors can be a good option because they don't rust like steel. Many are purely functional with no aesthetic appeal such as the one pictured. In an effort to trim production cost some manufacturers cut corners resulting in a product that doesn't hold up like it should. Homeowners think they are making a good choice until the failures start.
Flimsy designed screen doors require unsightly grills to be placed in front of the screen because even with slight pressure applied the screen can easily come out. Inferior corners and thin wall frames can cause the door to bend or twist. The 3 hinge design is not sufficient to prevent sagging and over time it can eventually cause the screen door to stop closing properly. Most are finished with a baked on enamel paint which sounds good but really doesn't' hold up to the harsh salt air environment of the Hawaiian Islands.
Last but not least, vinyl screen doors are your other option.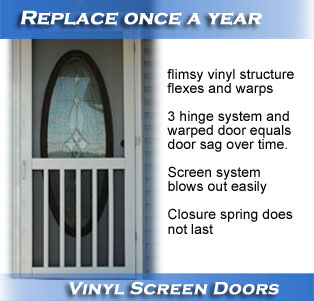 These They do offer some attractive designs but most are cheaply manufactured and will not last in the high wind environment that the trade winds bring.Structural failure is the biggest problem with vinyl screen doors. Many times you will see tension cables on these doors to try to keep them in square because structurally they can't maintain their shape.
This is often a point of discussion on DIY websites; here is just one example – click here to read more
Vinyl when used to construct a screen door is a flimsy material that twists, cracks and separates in high winds, this also leads to many screen blow outs and maintenance issues. Why purchase a screen door that you will be replacing year after year?
A better screen door option is now available!
PCA Handcrafted Aluminum Screen Doors built for Island Living!
Our screen doors are handcrafted right here in the USA and our superior construction standards produce the strongest aluminum screen door on the market today!
PCA manufactures heavy duty screen doors are just that, heavy duty, AND we back up that fact. We take quality testing to the extreme as you can see below. PCA screen doors have been designed to eliminate the structural and screen blow out issues that are common with other door manufacturers.
✔ Structual stability - We hang from our doors!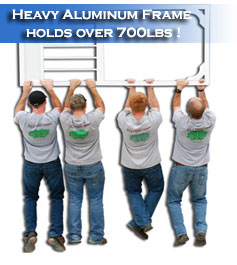 Heavy aluminum frame with internal lock corner keys can support over 700lbs! High traffic, high winds, are no match for PCA screen doors!

NO warping, twisting or flexing.

Superior design, extremely strong, and built solid. It's what you should expect from your screen door!
✔ Screen System - No screen blow out!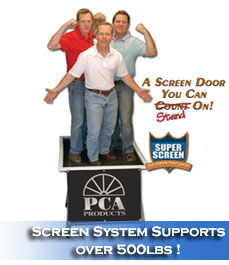 Got Wind? No worries! The PCA screen system can hold over 500lbs with no blowout!

Our specialized self-locking spline system was designed to keep screen tight and eliminate costly repairs.

Unsightly protective grills are no longer required!
PCA Products Powder Coated Aluminum Screen Doors are low maintenance and engineered to LAST in harsh environments.
Many of our Hawaiian customers have already had to replace several poorly manufactured screen doors on their homes due to the corrosive salt air or the strong winds that can bend and warp a door that is not built properly.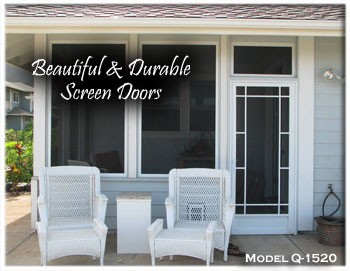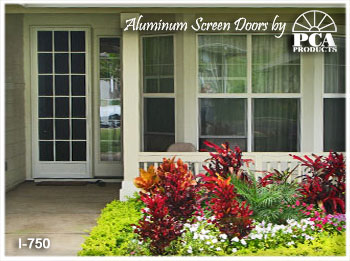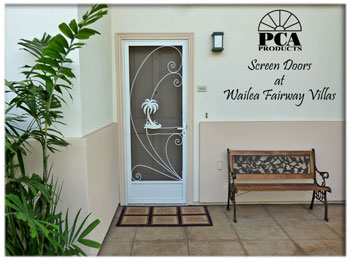 What about the salt air corrosion? All of our screen doors and components are powder coated which provides a truly maintenance-free finish even in the harsh salt air environment in the islands.
The finish has been tested to exceed 2500 hours of salt spray, which is up to 4 times the protection of baked on enamel paint. Available in white, bronze, ivory, sandstone or clay, with a PCA screen door you have choices to match or complement the finish of your home.
The quality does not stop with the screen door! Our standard hardware package includes wool piled lined Z-bar that installs around your existing opening and provides a quiet close and tight seal. The Bug Sweep is adjustable for those uneven floors and features a commercial grade wool pile that does not wear out like rubber or vinyl. Bugs don't stand a chance!
Are you working with an out of square opening? That is not an issue because PCA's installation hardware is fully adjustable in the width and height.
A Continuous Piano Hinge runs from the top of the door to the bottom eliminating door sag.
With PCA's universal installation kit our screen doors can be hung right or left and can be in-swing or out-swing.
The rust-free screen door handle is easy on the hands with its comfortable pull style action (ADA approved door handle). A pneumatic closure tube is also included with PCA's standard hardware kit.
Learn more about our many screen door features here – The PCA Advantage
PCA screen doors are the door of choice for premier communities such as Wailea Fairway Villas in Maui. On Oahu, our doors have been used extensively in Schofield Barracks where the management company sought out a screen door that would hold up for years eliminating the need to be repaired or replaced on a regular basis.
PCA screen doors are built for beauty and durability, the best choice for island living! Even in French door applications, PCA has the best solution.
Have you tried to Find Double Screen Doors for French Door Applications?
Look no further! PCA manufactures a French Screen Door System that uses no center post, allowing you the convenience of an unobstructed double door opening. Imagine the benefits...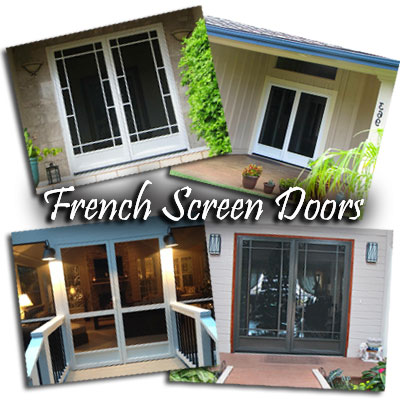 Easily Move Furniture in or out
No Hassle Access to your Grill or other Outdoor Equipment
Easier Spring Cleaning with a larger unobstructed opening
The exclusive PCA Astragal System contains dual flush bolts at the top and the bottom that are easy to operate, and provide a quick and effective way to open and close your "fixed" screen door.

The entire PCA French Sceen Door System is made of all RUST FREE components! You can rest assured your French Screen Doors for double doors will last for years to come.
Don't settle for the inferior quality and limited selection of other Screen Door Manufacturers. Demand a screen door that is designed for island living!
Stop by or contact your local specialty home improvement center or lumber yard to see firsthand PCA's line of aluminum screen doors. Or if you prefer, fill out the form above and we will be happy to put you in touch with your closest retailer.
PCA Maui Screen Doors - Handcrafted Aluminum Screen Doors Manufactured in the USA!
Screen Doors Maui
Contact PCA Today!