Create the perfect front entry online Today!
With our online front entry design tool, we make the design process easy. Start by selecting the shape that best matches your homes architecture. Then choose a door, side lights and the sunburst above the transom. Mix and match until you find the perfect combination for your home. Go ahead and click, have fun, let your imagination run wild. Create the perfect front entry to accentuate your home's architecture.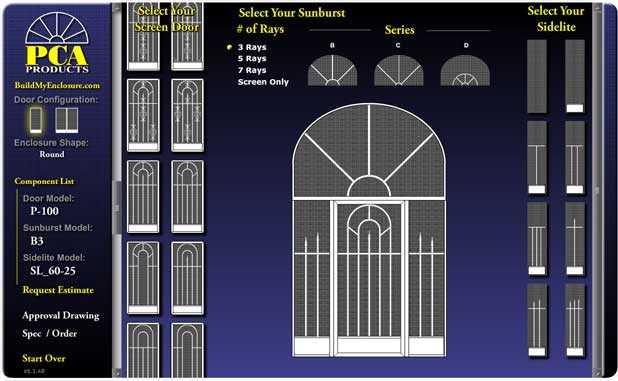 Have you tried to Find Double Screen Doors for French Door Applications?
Look no further! PCA manufactures a French Screen Door System that uses no center post, allowing you the convenience of an unobstructed double door opening. Imagine the benefits...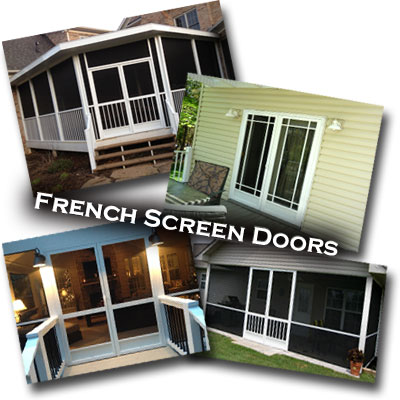 Easily Move Furniture in or out
No Hassle Access to your Grill or other Outdoor Equipment
Easier Spring Cleaning with a larger unobstructed opening
The exclusive PCA Astragal System contains dual flush bolts at the top and the bottom that are easy to operate, and provide a quick and effective way to open and close your "fixed" screen door.

The entire PCA French Sceen Door System is made of all RUST FREE components! You can rest assured your French Screen Doors for double doors will last for years to come.
Don't settle for the inferior quality and limited selection of other Screen Door Manufacturers. Demand a screen door that is designed to last is salt air environments!
Stop by or contact your local specialty home improvement center or lumber yard to see firsthand PCA's line of aluminum screen doors. Or if you prefer, fill out the form above and we will be happy to put you in touch with your closest retailer.
PCA Handcrafted Aluminum Screen Doors Manufactured in the USA!