Denison French Screen Doors - PCA's Custom Double Screen Doors are an asset to any home.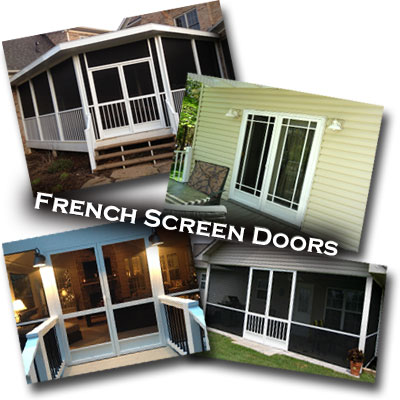 French doors are a popular option for home owners in Denison looking to add architectural interest with a classic look to their home. This type of door system can be used for any entryway – front entrance, back porches and multi-season rooms. The wide opening of the double door system also offers the added convenience of being able to move large objects in and out of the home.
When French doors are chosen for entrances, it's common to add screen doors so you can take advantage of nice weather days. A French screen door system incorporates two separate screen doors, and, depending on the manufacturer, there different ways those doors could operate and how they are built.
French Screen Door System with a Center Astragal.
A very popular option for creating a French Screen Door is a center astragal that is mounted on one of the screen doors; it closes the gap where the two screen doors meet. There is no center post in an astragal system. There is the option to keep one screen door closed while the other door gets the most use. When you want to use both, simply open the primary screen door, release two flush bolts and the stationary screen door can swing open freely.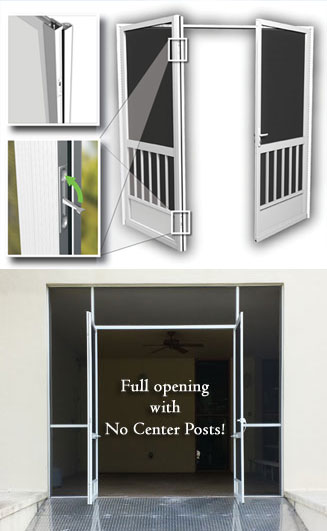 PCA designs and manufactures the astragal system for French screen door systems. The astragal is a quick and effective way to get the most convenience and use out of your screen doors.
5 Advantages of the PCA Astragal French Screen Door System
✔ Convenience
✔ Ease of Use
✔ Durability
✔ Easy to Install
✔ Versatile
French Screen Doors – Convenient and Easy to Use
PCA's French screen door system requires no center post which allows for an unobstructed opening. Why try to move your furniture through a single door opening if you can have the added convenience of a larger one? Patio or porch furniture, grills, or any bulky item can easily be moved in and out. When entertaining, a French screen door enlarges your indoor/outdoor space by encouraging your guests to enjoy all aspects of your home.
Easier access to your patio or back yard, a larger screen opening translates into more fresh air ventilation making your home more comfortable. An added benefit is a lower utility bill!
Double Screen Doors Astragal System Built to Last – Durability
The PCA astragal system is made of rust free components which is a key factor in adding to the longevity of our product.
You will never be concerned by unsightly rust bleeds anywhere on this system! Our powder coating application can withstand 4,000 hours of salt spray testing – an important consideration for anyone in a coastal location! We are also AAMA 2604 compliant. This means our powder coatings are formulated with super durable or modified polyester resins making our products ideal for applications where toughness gives good resistance to wear. Constructed using stainless steel, zinc die cast and high strength polymer guides, rust or corrosion will never be a concern.
Clearly, PCA's astragal utilizes a flush bolt design that is engineered with durability in mind.
Easy to Install and Versatile French Screen Doors for everyday use.
Contractors have the advantage of adjustability when installing the doors making for a quicker and easier installation. All PCA French screen doors are reversible, so they can be installed as an in-swing or out-swing application making them the ideal choice for almost any type of installation.

Choosing the Screen Doors for your French Door System - Wood vs Vinyl Screen Doors vs Aluminum
Once you've decided on the system that will make your double screen doors operate, your next step is to determine the type of screen door you want. The system may operate the doors, but the doors will need to withstand normal wear and tear, so it's an important choice.
The material of screen doors varies; options include wood, vinyl and aluminum.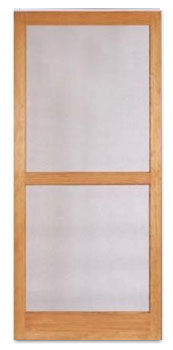 Wood Screen Doors:
This material is often chosen for its natural feel and beauty or to blend in with rustic architecture. While some options are inexpensive, nicer quality wood screen doors can get expensive.
PROS
Sophisticated look
Durable
CONS
Susceptible to weather damage – wood can rot, warp, swell and expand/contract from too much moisture, humidity and extreme temperatures
Requires routine upkeep and maintenance due to potential for damage
Tends to be an expensive choice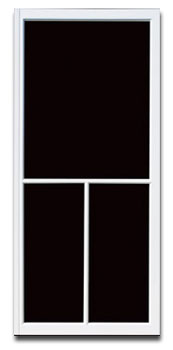 Vinyl Screen Doors:
These screen doors are a lesser expensive option at local hardware stores, which makes them popular choice for budget-conscious homeowners.
PROS
Inexpensive
Doesn't rust
Comes in a variety of colors; no painting or staining involved
CONS:
Not a very durable material; it doesn't stand up well to normal wear and tear and the frame can give way
Doesn't have great curb appeal
When installed with inferior hinges, the door will sag over time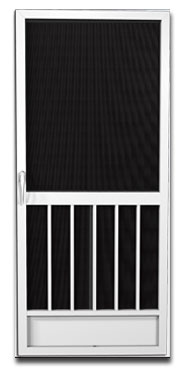 Aluminum Screen Doors:
This material is attractive, making it a good choice for curb appeal. Because it is the most durable of the three options, it tends to be expensive, but it also doesn't need to be replaced.
PROS
Attractive
Heavy duty strength means it will stand the test of time plus offers a higher degree of security.
Resistant to extreme temperatures and tough weather conditions
CONS
More costly that wood or vinyl screen doors
Heat conductive
A better double screen door option is now available in Denison!
PCA builds all of its screen doors with heavy-duty aluminum for a durable, long-lasting product. Built in the USA, the screen doors are hand-crafted on at a time and put through extensive testing to ensure you are getting a high-quality, long-lasting product. They have been designed to eliminate the structural and screen blow out issues that are common with other door manufacturers.
✔ Structural stability - We hang from our doors!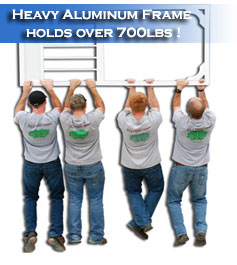 Heavy Aluminum frame with internal lock corner keys can support over 700lbs! High traffic, high winds, are no match for PCA screen doors!

NO warping, twisting or flexing.

Superior design, extremely strong, and built solid. It's what you should expect from your screen door!
✔ Screen System - No screen blow out!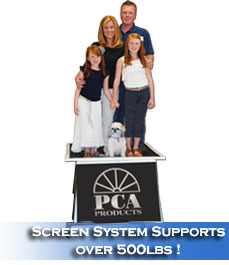 Got Wind, pets or Kids? No worries! The PCA screen system can hold over 500lbs with no blowout!

Our specialized self-locking spline system was designed to keep screen tight and eliminate costly repairs.

Unsightly protective grills are no longer required!

With PCA's universal installation kit our screen doors can be hung right or left and can be in-swing or out-swing. Are you working with an out of square opening? That is not an issue because PCA's installation hardware is fully adjustable in the width and height.
✔ Our wool piled lined Z-bar that installs around your existing opening and provides a quiet close and tight seal.
✔ A pneumatic closure tube is also included with PCA's standard hardware kit.
✔ The rust-free screen door handle is easy on the hands with its comfortable pull style action (ADA approved door handle).
✔ A Continuous Piano Hinge runs from the top of the door to the bottom eliminating door sag and adjusts to compensate for out of square openings.
✔ Adjustable bug sweep for those uneven floors and features a commercial grade wool pile that does not wear out like rubber or vinyl.
Bugs don't stand a chance with a PCA Screen Door!
Learn more about our many screen door features here – The PCA Advantage
Don't settle for the inferior quality and limited selection of other Screen Door Manufacturers. Demand a French Screen Door that is designed to last!
Stop by or contact your local Denison specialty home improvement center or lumber yard to see first-hand PCA's line of Aluminum screen doors. Our "where to purchase" dealer locator below will help you find your closest retailer. Also, if you have any questions about your upcoming project you can also contact PCA directly with our contact form at the bottom of this page.
Denison - PCA Hand crafted Aluminum Screen Doors Manufactured in the USA!
Find PCA Products screen doors near you.
Need help with your upcoming French Screen Door project?